Step 3: Raise Dough
Where's it hiding?
While it would be great to be able to affect change without spending a dime, it's just not realistic. As your mother used to tell you, money doesn't grow on trees and everything costs money – usually more than you planned.
Remember back when you were developing your project and you identified possible funding sources to help your initiative? This is the time to engage those people or groups. Who is most likely to help you fund your initiative? Is there a foundation in your area that specializes in the environment or kids or any projects that relate to yours?
Be specific.
The story you shared with your advocates is great, but consider refining it for your funders. Communicate need, impact, and your vision of success. But, don't stop there. Be sure to communicate exactly what you need potential funders to do. Perhaps they can share organizational help. Maybe they have professional capacity that helps push your vision further. And, maybe, just maybe, they have some money they'll be willing to part with to help you accomplish your goals.
What do you want them to do? Be specific.
Show me the $$$.
Do you have a great idea for how to connect young people with the outdoors? Outdoor Nation is anxious to hear about it. We might even provide a small grant to support your project.
Thankfully, we aren't alone. There are a number of other national outdoor-focused organizations that might be willing to help you with your project. Visit our links page to learn more. Also, don't overlook small grant-making foundations in your community. They can be terrific sources of funding for local projects.
And, finally, consider talking to business leaders in your area for their support. Most know that a healthy, happy person is the best kind of customer. Ask them for support.
Persistence pays.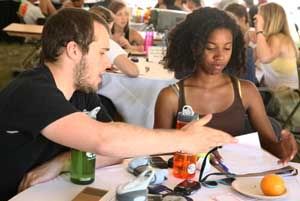 It's true, while you don't want to become a nag or a pester, following up with potential funders is critical to your success. One phone call or letter won't cut it. And it's easy to ignore one email or text message.
It's a lot harder to ignore someone who is persistent, professional, and has a compelling story. If you meet with a potential funder, stay in touch. Even if they tell you "no" at first, add them to your communications list and keep them posted on your progress. Remind them who you are and what you're working toward. Chances are that they'll be impressed with your professionalism and may consider funding you in the future.
Say "thank you."
Mom was right. Those two words are the key to staying connected with your funders. If they generously donated, tell them how you spent their contribution and say "thank you." If they gave you advice, tell them how it helped you and say "thank you." If they didn't do anything else but take your call and tell you they couldn't help, follow up with a "thank you." You never know when those two little words could come back one day to help you. It really is a small world.
Additional Resources
Grants.gov: THE place to find and apply for federal grants.
Foundation Center: Connects people who want to change the world to the resources they need to succeed. Um, that's you, right??
Kickstarter: And, even more funding opportunities! The world's largest funding platform for creative projects.
ChipIn: A quick and easy way to promote your fundraising event and collect the $$.