Step 5: Organize Your Community
Do your homework.
Is there anyone in your community who is doing the same kind of work you're planning to do? Is there an environmental organization that needs your project idea? Is there an organization in a neighboring community who could share resources and challenge your assumptions?
Partnering with a strong organization has the potential to raise your idea to a new level. Take it to new heights. Keep your eyes open, do your homework about your potential partner, and dot your I's and cross your t's. Entering into a partnership (partner MOU) may make the difference between success and failure.
Remember, it takes a village.
Connect with your community.
This is one of the most important lessons you could ever learn and one that we feel strongly about at Outdoor Nation. Going it alone isn't a good recipe for success and it sure isn't fun. Think creatively, plan thoroughly, and cast a wide net. Looking for the right partner – or partners – to accomplish your goals more quickly and efficiently.
Build teams.
Everyone say it together with us: There is no "I" in TEAM. Partnerships promote a common purpose, increase the chance at success and foster a strong sense of ethics. Partners keep each other in check and make sure they are working together to achieve their goals. Finding the right people to work with is a critical component in achieving success.
If your idea is a good one – and we're sure it is – many people will want to climb on board and become part of your team. That means more people who will be talking about the issue. More people fighting the good fight. More people advocating for change and working together to raise money.
Funders looooove partnerships.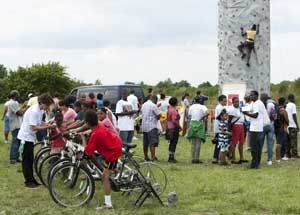 Foundations and generous individuals who donate know that the more people and organizations involved in a particular program or cause usually adds up to greater success and achievement. If you're fundraising for bike and hike trails in your community, they'll want to know that local environmental groups, government agencies and other relevant organizations have teamed up together to solve the problem.
Come one, come all!
Post it. Tweet it. Create a video. Go viral. Have fun – organize a flash mob.
If you have a great idea and the gumption to make it happen, you'll be amazed at how many people want to come aboard, to join your cause. Make it easy for them to join you, help you, work for you. Be transparent. Stay focused. Ask for help. Get it done.
Additional Resources
Youth Leadership Institute: Research and real world experience about youth programs. Pay special attention to info on organizing at a community level.
How to Organize a Flash Mob: Check out wikiHow's Flash Mob 101.