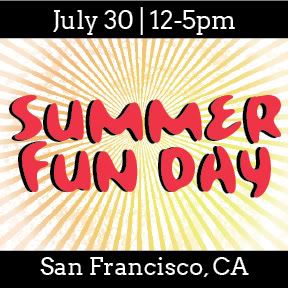 Presented by
: The North Face, REI Foundation and The Conservation Fund
Co-Host
: National Park Service and Crissy Field
When
: Saturday, July 30 | 12:00noon-5:00pm
Location
: Crissy Field's Historic Airfield
Address
: Mason Street, San Francisco, CA
Calling all Bay Area Residents!
Don't miss a day of free family fun on Outdoor Nation's ultimate, outdoor adventure playground!
Highlights of Summer Fun Day San Francisco:
REI Family Camping Fun
Hula Hooping and other Retro Games hosted by Merrell
Biking
Prizes, including CamelBak Water Bottles
Music, hiking and more!
About Crissy Field
From a waste dump to a thriving coastal habitat, Crissy Field has gone through an amazing transformation. This former military land is now a dynamic public open space that recreates the multi-layered natural and cultural history of the site. Beginning in 1997, cleanup of hazardous materials on the site involved the removal of almost 90,000 tons of contaminated materials. Now Crissy Field is a favorite local park with spectacular views and the popular Crissy Promenade…all in a metropolis of nearly one million people.
Getting There
Driving directions:
From San Francisco, the East Bay and Points South
North on Van Ness Avenue. Left on Bay Street. Right on Laguna to Marina Blvd. Follow Marina Blvd. for 0.9 miles, bear right and enter Crissy Field at the Marina Gate (Mason St.). Continue 1.0 miles on Mason St.


From Marin/North Bay
Cross the Golden Gate, stay to the left and take the Downtown (101) fort. Take the Lombard/Downtown exit. Take the first right into the Presidio and them an immediate right onto Gorgas Ave. Right on Halleck St. under Doyle Dr. to stop sign. Turn left on Mason St.

Public Transportation: Take the 28 Buss toward Fort Mason.
Customize your directions: Google Map




Presented by: